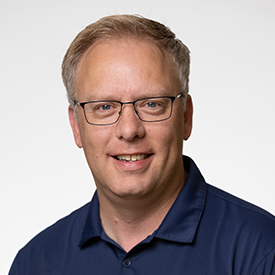 David Thompson
National Marketing & Sales Director
Joined Stine Seed Company 1998
David Thompson oversees the company's sales and marketing initiatives. As such, he works closely with the sales team to develop competitive sales programs for all of Stine Seed Company's customers. Stine uses a variety of high-touch marketing programs that include educational materials for internal and external use. He works closely with the entire Stine leadership team to develop a strong communication plan to promote products and programs that meet the needs of their customers. 
David was raised in rural Dallas County, Iowa, on a grain farming operation only a few miles from Stine headquarters. Prior to joining the Stine team, David worked for the Iowa Soybean Association, a nonprofit, farmer-led commodity organization that represents Iowa soybean producers.
David's interests and involvement in agriculture extend well beyond Stine. He has been actively involved in the National Agri-Marketing Association, serving as president of the Iowa chapter and in various appointments to the national organization. In addition, David is a past president of the Iowa Seed Association.
David is a graduate of Iowa State University's Greenlee School of Journalism, with an emphasis in public relations.
Awards & Honors
2008 National Best of NAMA Award for StineSeed.com online seed catalog 
2013 National Best of NAMA Award for New Product Introduction 
2014 Regional Best of NAMA Award for Premiums Gifts for farmers and growers