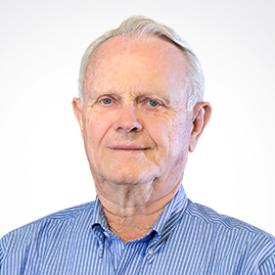 Harry H. Stine
CEO
Joined Stine Seed Company 1964
Harry Stine is synonymous with many titles – innovator, businessman, entrepreneur – but the title holding the most significance to him is farmer. Raised on the family property in Dallas County, Iowa, Harry graduated from Central Dallas High School and then McPherson College in Kansas. In 1964, he joined his father's soybean cleaning business in Adel, Iowa. 
Harry's interest in research and seed breeding started when he found some unusual soybean plants in one of the company fields. He saw the value and profit opportunities that breeding, developing and growing newer, higher-yielding soybean varieties would have for his company and farmers. While yield checking the soybean lines, he came to understand what a conventional breeding program could bring to the soybean industry and growers.
Previously done only by universities, Harry began a soybean-breeding program with four other seedsmen. Named Improved Variety Research (IVR), the company was the first private soybean research and development company in the United States. IVR dissolved in 1973, and Harry and head plant breeder Bill Eby formed Midwest Oilseeds, which is still the soybean genetics licensing company of choice in the United States. Interest in corn breeding and genetics inspired Harry to form Eden Enterprises with Bill Eby in the early 1980s.
Retail soybean seed sales efforts were launched in 1979, when Harry began selling soybean seed under his own label, Stine Soybean Seeds.  In 1992, in addition to being one of the top four soybean seed companies in the United States, Stine began selling corn and soft red winter wheat under the Stine label.
Harry is a member of the American Society of Agronomy and the American Seed Trade Association. He also serves on the board of directors of the Trees Forever Foundation (Trustees Emeritus) and has served on a number of other boards, including the Iowa Arboretum and the Brenton Arboretum.
Awards & Honors
1973 Iowa's Outstanding Young Farmer by the Iowa Jaycees
1989 Agrimarketer of the Year, Iowa chapter of the National Agri-Marketing Association (NAMA) 
1989 Ernst & Young Iowa/Nebraska Entrepreneur of the Year
2000 50 Most Influential Iowans by the Des Moines Register
2002 Honorary Doctorate from McPherson College
2003 Inducted into the Iowa Business Hall of Fame 
2007 Entrepreneurial Achievement Award from the Iowa Biotechnology Association
2007 Distinguished Service to Agriculture Award from the Iowa Farm Bureau Federation
2013 Named in top 100 CEOs Leaders in STEM by STEMconnector®
2014 Included on Forbes 400, America's top entrepreneurial moguls
2015 Forbes Richest Person in Every State for Iowa